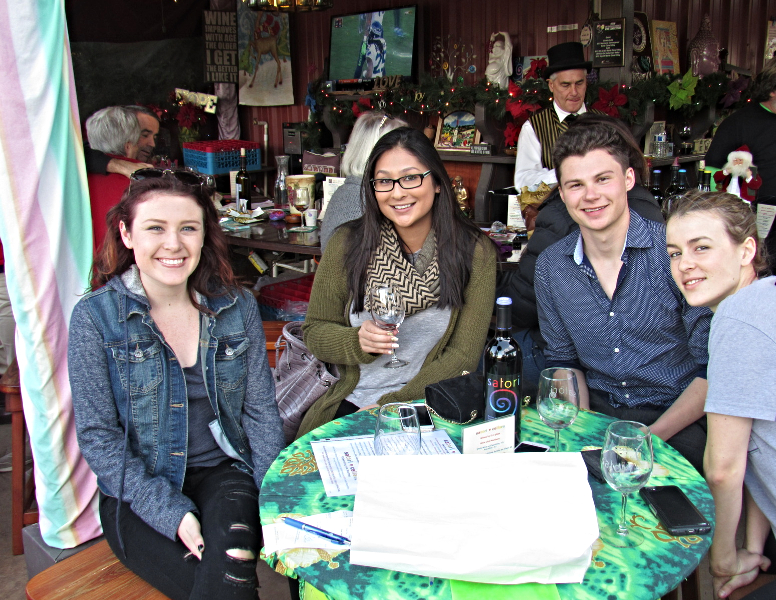 will the real satori please stand up?
you may know that the name "satori" is an anagram of the first two letters of the first names of the three founders of the winery. SA for Sandy, TO for Tom, and RI for son Riley. Tom thought he had made the name up until later that fateful day when he was reading Eckhart Tolle's The Power of Now and discovered that "satori" is an actual Japanese Zen Buddhist word that means "a taste of enlightenment." Not full-on, perpetual bliss … but a sneak peak.
Well, as we have found several times over the years, satori is also a person's name. The bespectacled woman above is Satori Le and she came to the winery last weekend with friends to celebrate her 21st birthday.
Satori said she has known about the winery for several years but was waiting for her 21st to visit  — and to take home some namesake souvenirs: a bottle of Merlot of the Violet Flame (because it has the largest satori name of all our bottles), and a satori logo glass and wine opener.
When asked why her parents named her Satori she said that Zen Buddhists run in her mother's side of the family and she just liked the name.
A couple of weeks ago some grandparents from San Luis Obispo came in to buy some wine in honor of their 6-year-old grandson, Satori.
No dogs named Satori … yet.